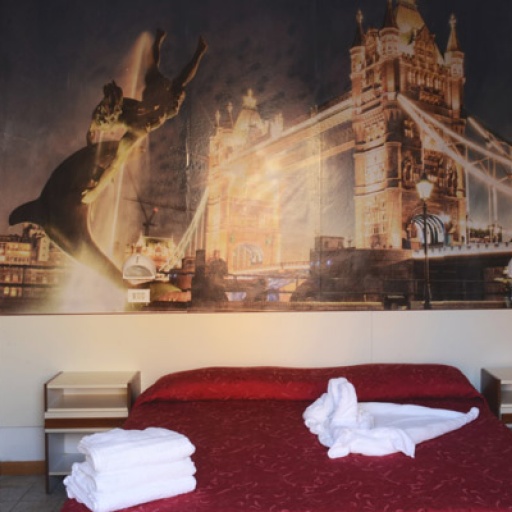 The City Hotel, located in the suggestive sea town of Misano Adriatico (Misano Brasile district) is a small, family-run hotel.
Thanks to its marvellous position, it is possible to enjoy all the resources offered by our ancient municipality of Roman origin.

Located at only a few metres from the sea, at the town centre, the City Hotel is surrounded by a quiet evening pedestrian zone near a lively and well-equipped public park, and is ideal for a relaxing sea holiday with friends and family.
The strategic position of the Hotel allows us to be close to everything, at only 40 metres from the sea, a few steps from the vast public gardens and kids' playgrounds, Riccione and Cattolica.
The thermal centre of Riccione, Aquafan water park, Fiabilandia's Oltremare amusement park and Parco Le Navi aquarium in Cattolica are only a few kilometres away. And when the night descends and evenings heat up, you can reach the coolest Italian clubs in just a few minutes. An option for every need.

Spending the holidays with us means joining the Semprini family, meet new friends and make new experiences. It means being cuddled by our staff's attentions, by the amenities of our Hotel and our partners.
Hoteliers by trade as a typical family from Romagna, we offer an outstanding cuisine at the City Hotel.
Azdora follows and looks after all the dishes, proposing every day a rich buffet of salads, vegetables and home-made delicacies.

Fish, meat, dairy products, olive oil, cereals, fresh pasta, seasonal vegetables and fruit, are the main ingredients of all our dishes.
As per tradition, we prepare fresh, light and tasty first, second, side dishes every day in our kitchen, in typical Mediterranean style.

The wise and professional use of the various ingredients allows us satisfying any request, pleasing any need.
To make every meal unforgettable, our confectioner's shop is able to astonish and appeal all senses, proposing strictly home-made sweets and desserts.
From breakfast to dinner, each meal will be tasted and served in the spacious raised and air-conditioned hall.

Typical 3 star Hotel from Romagna, the City Hotel offers to all its guests, spacious and comfortable rooms with practical balconies, full HD TVs of last generation, large bathrooms with shower box, safe, telephone, Wi-Fi and air conditioning free of charge.
All hotel stories are connected and served by a practical lift.
A beautiful veranda where to enjoy a fancy aperitif caressed by a gentle sea breeze, will be the perfect place to magically end a marvellous day of sun and sea.

To make your holiday complete, the City Hotel has established a partnership with three different bathing establishments nearby, in order for each client to find the most suited beach to his needs.

The big news in the summer or 2017 was our Hotel Elena Annex.

Just a few steps way from the Hotel City, in an even more prestigious location, our Hotel Elena annex is now at your disposal.
It is a compact structure located 50 metres from the sea, which underwent complete external refurbishing in May 2016, and is now a sleek and modern facility, typical of seafront architecture.

Hotel Elena is located in Misano Adriatico and has a spacious veranda used to serve a delicious sweet and savoury breakfast buffet every morning (from 8 a.m. to 11 a.m.). The entire facility provides free and fast Wi-Fi connections (rooms included)
Lunch and evening dinner, for those choosing the full-board option, is served at the Hotel City restaurant and water and wine is also included with the meals (no limitations).

All the Hotel Elena rooms and bright and large enough to accommodate all visitors, from a single traveller to a numerous family.
26" latest generation TV, free Wi-Fi, telephone, safe, balcony, air conditioning and ceiling fans are the facilities available to all visitors, in every room, from single to family accommodation.

New Mum facility.
A small area dedicated to families with newborns, particularly useful for new mums who can use it, completely free of charge, to prepare milk or baby food for her infants.
There is a fridge to store milk and food, a microwave oven, an induction hot plate and a bottle warmer.

Hotel Elena is therefore the perfect beach holiday solution to meet the needs of even the most demanding travellers, whether it is for a night's stay with breakfast or a trouble-free all-inclusive holiday.
Everyone will find the formula that suits them best at the cheapest price possible.

HOTEL SERVICES
credit cards accepted
Beach service
Elevator/s
Free hi speed internet
Partial air conditioning
Groups accepted
Pets allowed
Animazione in spiaggia
ROOM SERVICE
In room -cable/ satellite tv
DOVE SIAMO
CONTACTS