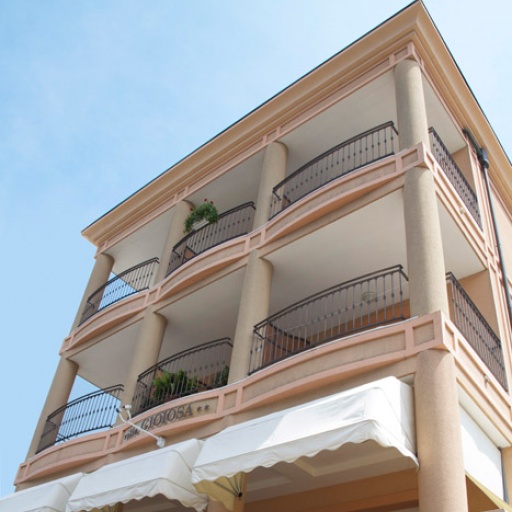 Welcome to the Hotel Villa Gioiosa Miramare di Rimini !
Managed since 1950 by the family Sanchini .
Located 70 steps from the beach.
Easily accessible from all directions, by car, by train or by bus ( bus stop No. 32 ) and a few kilometers away from the most exciting amusement riviera parks ( Overseas, Aquafan Beach Village, Fiabilandia, Dolphinarium, Water Park Le Navi ) .
WELLNESS: the nearby therapy center Riminiterme within their " Wellness Center" offers a range of services that combine the properties of the thermal waters , thalassotherapy, the seawater and its natural elements ( packages offer) .
In addition, all guests will be offered a welcome gift Welcome !
KITCHEN :
The hotel joins the project " Tourism Welfare " means any day on the table you will find fruits and vegetables at zero miles , a choice of two starters and two main courses for lunch and dinner, and all the goodness of local cuisine . For smaller bespoke menus .
WOULD YOU LIKE TO EAT LIGHT? Every day a large buffet of cooked and raw vegetables , au gratin, seafood salads , pizzas and tasty esplanades will allow you to make the meal without ordering first and second.
MENU ' FISH : Every day the hotel offers typical dishes of the sea and curious novelty with an eye on the fish of the season.
CHILDREN :
cots and beds
night lights
highchairs
placemats, cutlery and colorful dishes
bath tubs for the kids
possibility of meals in advance
refrigerator service
on the beach: inflatables, entertainment and games for children
ROOMS
private services
Satellite TV
electronic safe
ceiling fan
air conditioning
balcony or spacious balcony
FREE CAR PARKING
WHAT YOU WILL FIND NEARBY HOTEL :
Fiabilandia ( 10 minutes drive )
Rimini Terme (1 minute by car, 5 minutes walk )
Aquatic Park Beach Village (3 minutes by car, 8 minutes by bike)
Overseas, Imax ( 10 minutes drive )
Aquafan ( 10 minutes drive )
Le Navi Park ( 25 minutes drive )
LEISURE :
Evening markets at the nearby center of Miramare
Weekly market (Tuesdays at Miramare , Thursday Bellariva , Wednesday and Saturday at Rimini 's historic center )
Quality Card for discounts at museums, amusement parks and nightclubs !
Opportunity to purchase discounted tickets for all the parks of the Riviera , by reservation.
If you buy tickets from us overseas and Aquafan discounted access to the parks without line at the cash and get great gifts for your children ! In addition, the next day comes for free .. and the lunchbox we will prepare for you!
HOTEL SERVICES
credit cards accepted
Guest use bike
Animazione in spiaggia
Parking
All inclusive service
Menù per vegetariani
Private garden/ terrace
Beach service
Air conditioning
Free hi speed internet
Pets allowed
Groups accepted
ROOM SERVICE
In room -cable/ satellite tv
DOVE SIAMO
CONTACTS