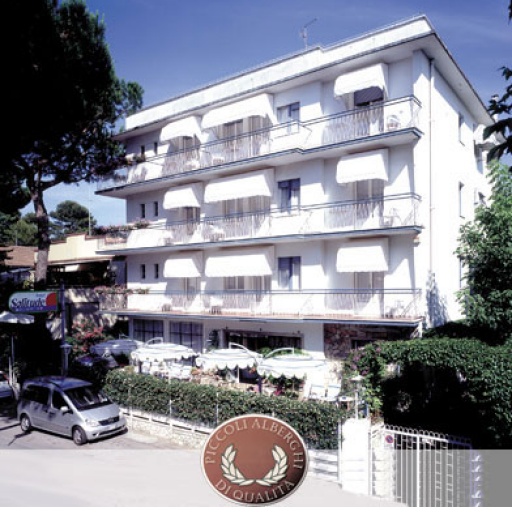 FOLLOW THE SUN... AND FIND SOLITUDE

Train, plane, car, coach: however you travel, this elegant, green and quiet part of town is very close to the centre!! The beach, the shops, the spa: everything is within easy reach of the little hotel run by the Migani family.
In 1956, grandfather Francesco started up the establishment, taken over in 1962 by his son, Secondo, supported by the love, enthusiasm and commitment of his wife Rosanna. The tradition continues with Marco and Cinzia.
In 1998 the swan of Legambiente (the Italian association for the protection of the environment) certified the hotel's efforts in favour of sustainable holidaymaking. Since 2000, the Strada dei Vini e dei Sapori dei Colli di Rimini (the wine and flavours of the Rimini hills road) has passed outside the hotel. In 2003, the Piccoli Alberghi di Qualità (Small quality hotels) organisation certified its attentive management. In 2004 the CostaHotel club presented proposals for boosting interest in the surrounding countryside.
Gourmet dishes and fine wines can be found on the list of local wines, in the hors-d'oeuvre and vegetable buffet, in the double fish and meat menu, carefully prepared by Rosanna, the host of the house and as delicious as her recipes: rustic lasagna, risotto with sunflowers, rabbit in "porchetta", cake with raisins and rum, "passatelli in brodo" with lemon rind, "risotto del pescatore", marinated bonito, monkfish with wild fennel...
Relax and dream in any one of the 24 bedrooms, nearly all with balcony. All have en-suite bathrooms, hair dryer, Sat TV, direct-dial phone and safe box and exit onto corridors with lounge or classic music.
Wake up to all the energy of a fine buffet, sweet and savoury breakfast on the terrace, with a selection of organic products and home-made cakes. And in mid morning, jump onto the 13-metre sailing boat to enjoy the sea from the sea and be pampered by the sun while sipping an aperitif...

SOLITUDE: NEAR THE CENTRE, NEAR THE SEA, NEAR YOU.
HOTEL SERVICES
credit cards accepted
kids play garden
Beach service
Elevator/s
Pets allowed
Free hi speed internet
Parking
Guest use bike
Groups accepted
Private garden/ terrace
24 h laundry service
Animazione in spiaggia
Air conditioning
All inclusive service
ROOM SERVICE
In room -cable/ satellite tv
DOVE SIAMO
CONTACTS