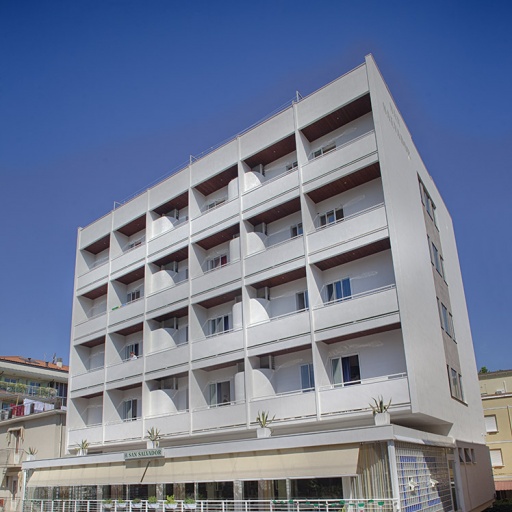 YOU HOLIDAYS ARE PRECIOUS: GUARANTEE TO YOUR FAMILY MEMBERS THE CARE AND THE RELAX THEY DESERVE!
We have built our Family Hotel on the Riviera in 1967 and since then, we manage it with passion and love, bearing in mind that is socially important to offer a quality stay to all those who just need a real vacation after months of work and stress: relaxing, fun, full of opportunities and eco green!
Our hotel, three star Superior category totally renovated, will guarantee comfort and services expected from the major international hotels at a truly honest and affordable price - POGGI FAMILY
AT THE HOTEL SAN SALVADOR EVERYTHING IS INCLUDED IN THE PRICE!
✓ Breakfast, lunch and dinner
✓ The snack in the afternoon coming back from the beach
✓ Still and sparkling water at meals
✓ Biologic red and white wine at meals
✓ TV and air conditioning in all the rooms
✓ The parking place, even the guarded one
✓ The wonderful beach towels (so that you don't need to put them in your suitcase).
✓ The bikes and the canoe
✓ The use of tennis courts very close to the hotel
✓ Entrance to the Fitness Centre of the city
✓ The internet Point and Wi-Fi area
✓ The children playroom at the hotel
✓ The preparation of baby's food
✓ The equipment for children in the sleeping and dining rooms
✓ The dancing and Tequila parties
✓ The dinners with Romagna specialities
✓ The T-shirts, the umbrellas, the caps
✓ ECO GREEN CHIC
And for children... always free:
✓ Playroom + children equipment in the room and the restaurant
✓ Babysitter service at the hotel and on the beach
✓ Preparation of special and appetizing menus
✓ FREE Plasmon baby foods
✓ Various flours: tapioca corn, meal, multigrain always at your disposal
✓ Kitchenette for mothers
✓ Everyday fresh soups and baby food
✓ FREE Bio-Milk for children
✓ Delicious and fresh snacks after the beach
✓ Bikes with child seat
...and much more...
What are you waiting for? Don't lose your chance to live an incredible holiday experience!
HOTEL SERVICES
credit cards accepted
Pets allowed
All inclusive service
Elevator/s
Guest use bike
Beach service
Parking
Internet point
Free hi speed internet
Air conditioning
Hydromassage pool
Animazione in Hotel
kids play garden
Fitness area
Menù per vegetariani
ROOM SERVICE
Disabled access hotel
Minibar
In rooms safe box
In room balcony
Hairdryer in room
In room bath with shower
In room -cable/ satellite tv
Hydromassage pool
Disabled access room
Wi-Fi
DOVE SIAMO
CONTACTS